An extraction removes a tooth from its socket in the jawbone. Extractions are performed for various reasons, such as preventing overcrowding, removing wisdom teeth, or preparing for a dental implant.
Extractions are performed under local anesthesia, which numbs the extraction site. At Advanced Sedation Dentistry, we also offer several sedation options for patients undergoing extractions. Sedation dentistry can help alleviate any anxiety they may be feeling about the procedure.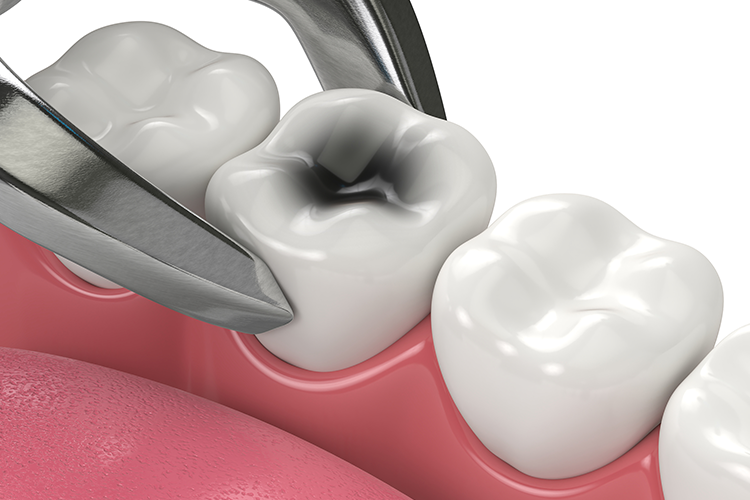 The Different Types of Extractions
A surgical extraction is a procedure that requires the dentist to make an incision in your gum. A surgical extraction is used to remove teeth that are broken off at the gum line or not fully erupted.
A simple extraction is used to remove teeth that are visible above the gum line. A simple extraction involves using an instrument called an elevator to loosen and remove the tooth.
The Procedure for Extractions
To remove a tooth, the dentist will first apply a local anesthetic to numb the area. In some cases, they can perform the extraction while the patient is under sedation. Once the area is numb, the dentist will grasp the tooth and rock it back and forth until it shifts from its position. Sometimes, the dentist may break the tooth into several pieces to remove it more easily.
When and Why Are Teeth Extracted?
One of the most common reasons for tooth extraction is severe decay. The decay may be so advanced that the tooth cannot be saved and there is no choice but to have it removed.
Tooth damage is another common reason, such as when a tooth is damaged in an accident. Teeth may also require removal if there is not enough room in the mouth to accommodate all the teeth. If teeth are overcrowded, other teeth may be pushed out of place, affecting their alignment.
The Benefits of Extractions
Avoid Crowding
When there is not enough room in the mouth to accommodate all the teeth, the teeth may shift and become misaligned. Crowding also makes it more challenging to clean the teeth, leading to tooth decay and gum disease. It can also make wearing braces more difficult or impossible.
Preventing Infection
Crowded and overlapping teeth are difficult to clean. This allows bacteria to build up and risk infecting your teeth, causing pain, swelling, and halitosis (bad breath). Removing extra teeth can prevent these problems.
Wisdom teeth are also challenging to clean. Therefore, bacteria can get trapped around your wisdom teeth, increasing your risk of infection. Having your wisdom teeth removed can prevent infections.
Preventing Jaw Pain
If your wisdom teeth are impacted, they may cause a host of issues, including jaw pain. When your wisdom teeth come in and push on your surrounding teeth, this pressure can also lead to pain in your jaw joint. Extracting wisdom teeth is recommended in such circumstances.
For the best dental care tailored to your unique needs, visit Advanced Sedation Dentistry in Virginia Beach or Chesapeake or call (757) 769-7155.