A root canal is a dental procedure that treats the infected central pulp of a tooth. This procedure also alleviates any pain associated with the tooth infection. At Advanced Sedation Dentistry, the treatment involves carefully removing the infected pulp and reshaping the root canal. Once these procedures are performed, the tooth is carefully restored with a crown.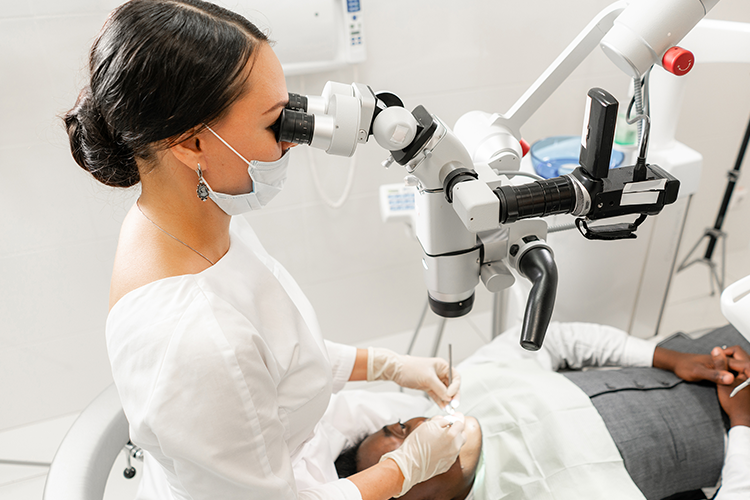 Why Should I Have a Root Canal?
When treating an infected tooth, our dentist may recommend a root canal. A root canal can save a tooth that would otherwise need to be removed and prevent your infected tooth from causing further pain.
If our dentist has recommended a root canal, it's because your tooth is infected or inflamed. This can be caused by several factors, including severe decay, a chipped or broken tooth, or repeated dental procedures.
A tooth infection can affect the surrounding teeth, the gums, and even your jawbone. Untreated infections can lead to significant pain and discomfort, so treating an infected tooth as soon as possible is essential.
A root canal may be needed if the tooth is severely decayed, injured, or infected. In these cases, removing the infection becomes a priority.
The Root Canal Procedure
First, our dentist will numb your tooth and surrounding tissue. Then, they will clean the tooth and remove any diseased tissue. After the tooth is fully prepared, our dentist will place a rubber-like material called gutta-percha inside the tooth and seal it with a dental filling material.
When an infection is left untreated, it can cause pain that may even radiate to other areas of your body. A root canal is a procedure that removes the infected pulp, relieves your pain, and restores your tooth.
The Benefits of a Root Canal Procedure
There are many benefits of having a root canal procedure. Root canal therapy is an effective way to treat an infected tooth. Root canal therapy can help save a tooth from extraction. It can also prevent other oral health complications from occurring. Root canal therapy can also eliminate pain caused by an infected tooth.
Is a Root Canal Safe?
A root canal is a safe procedure when performed by a dental professional. During a root canal, the dentist removes the infected pulp and nerves from the tooth. Then, they clean the root canals and seal the tooth. Many patients feel relief after their root canals and can return to their regular diet and activities.
A root canal can relieve toothaches and sensitivity caused by cavities or infections. To discover more about the advantages of root canal treatment, visit Advanced Sedation Dentistry in Virginia Beach or Chesapeake or call (757) 769-7155.